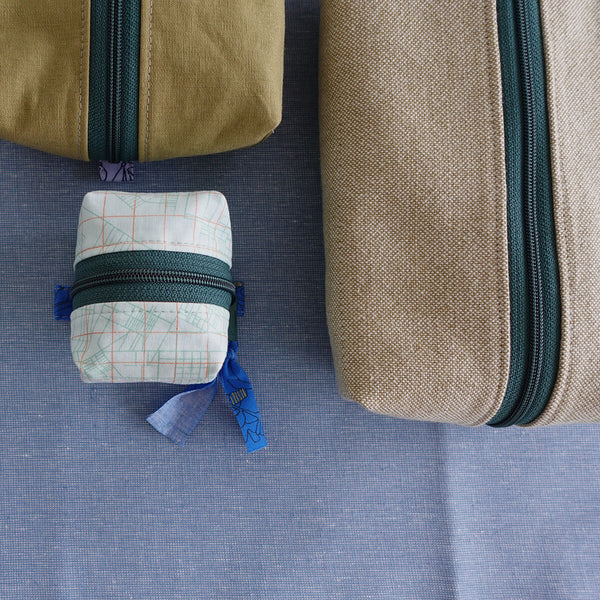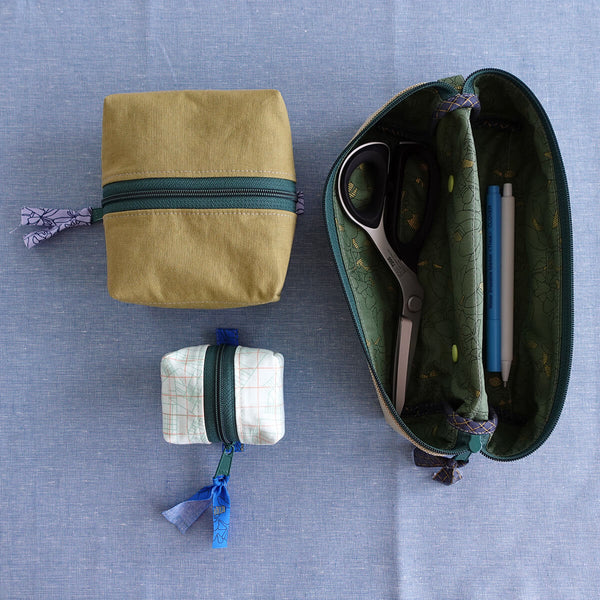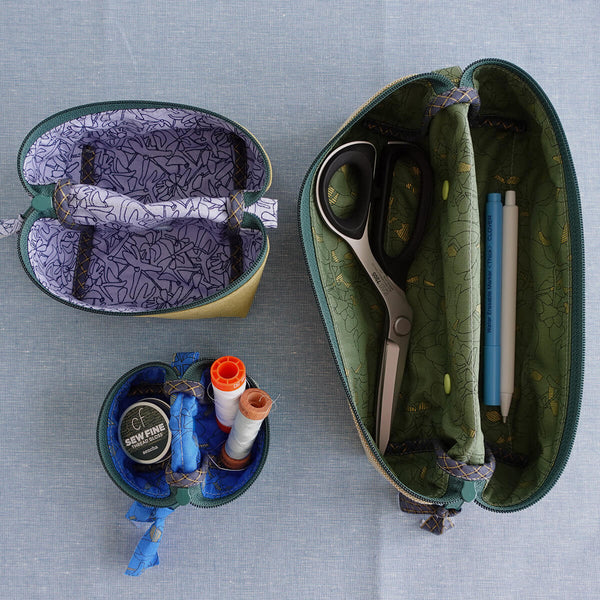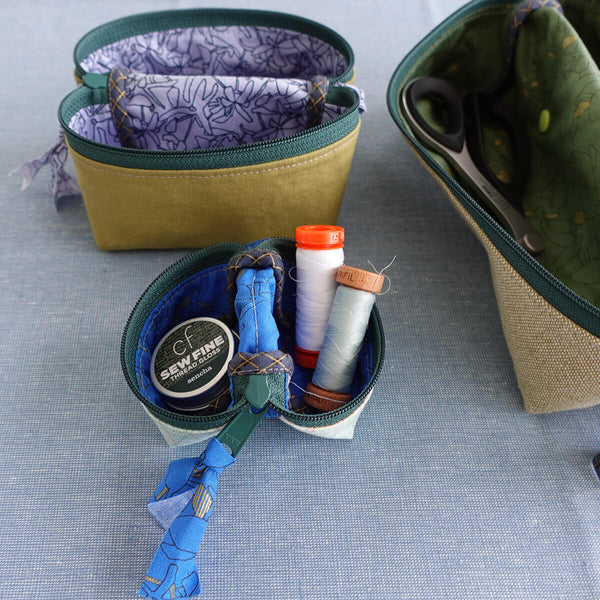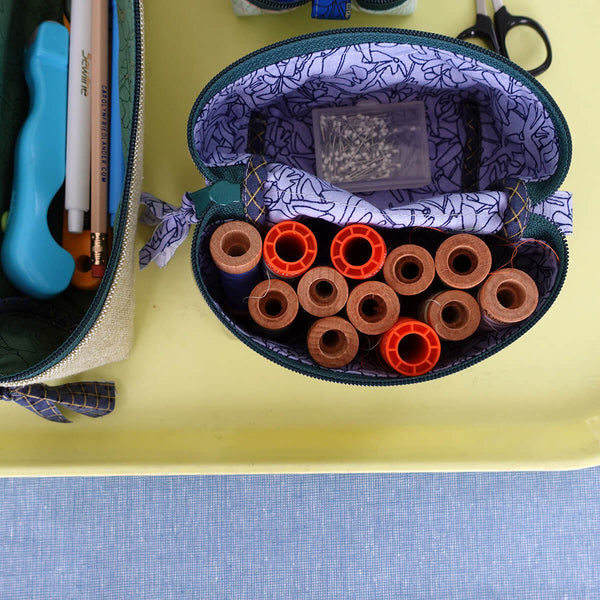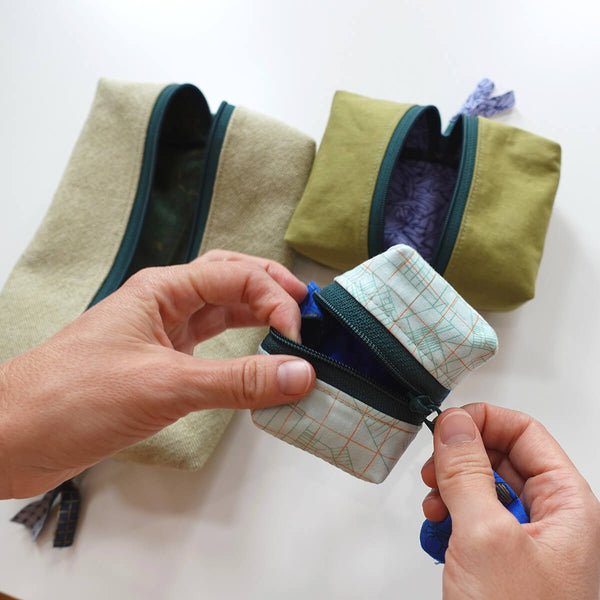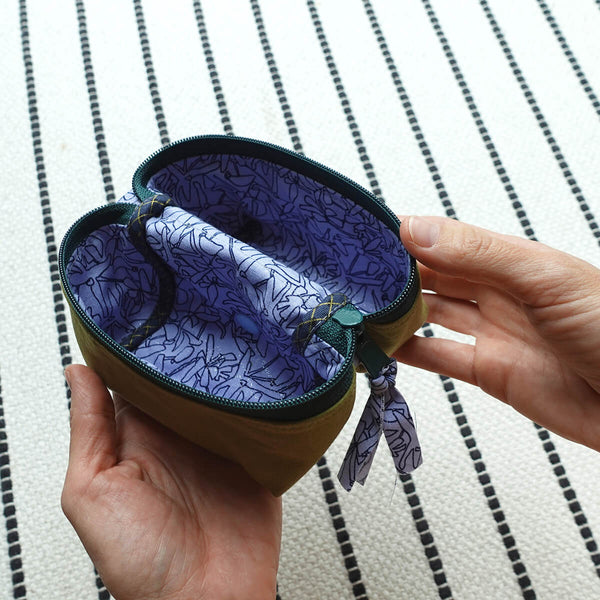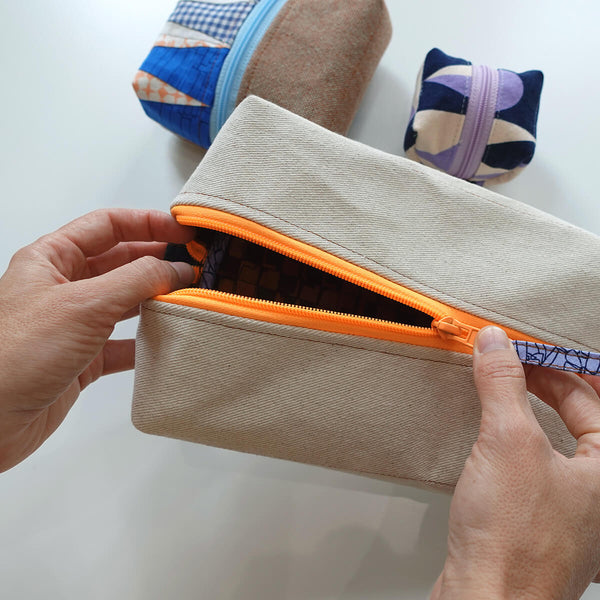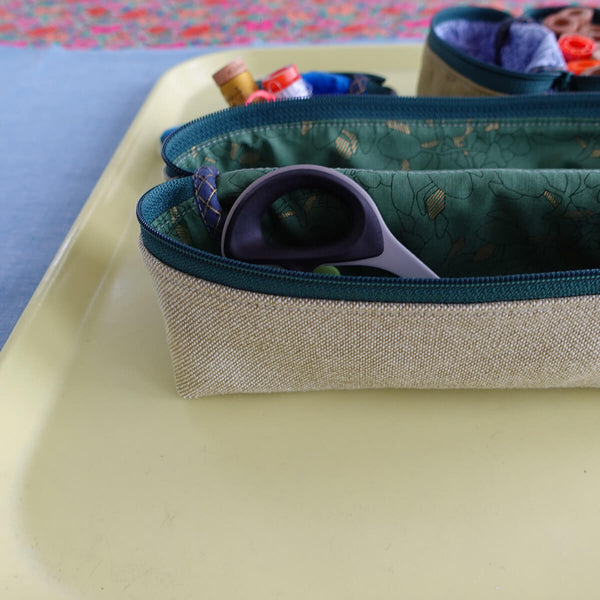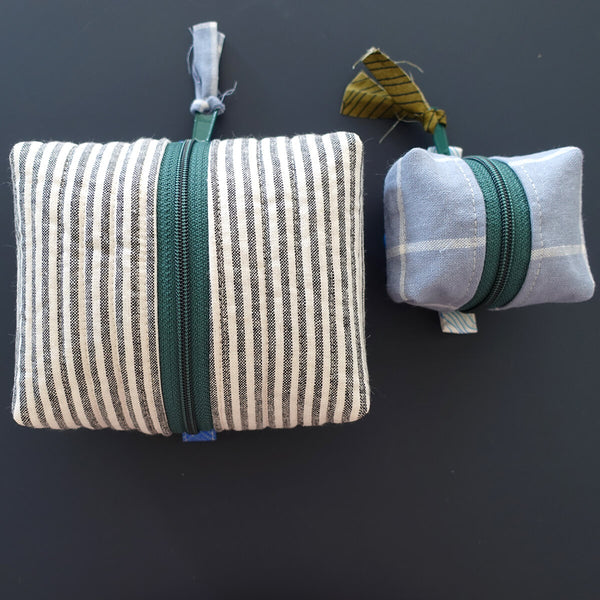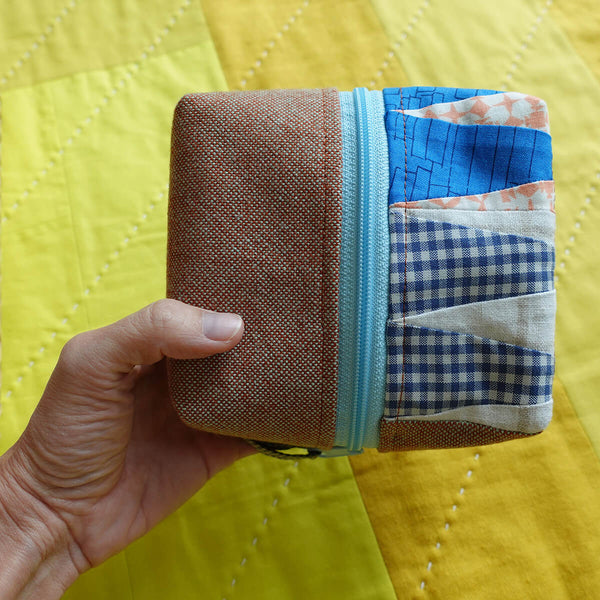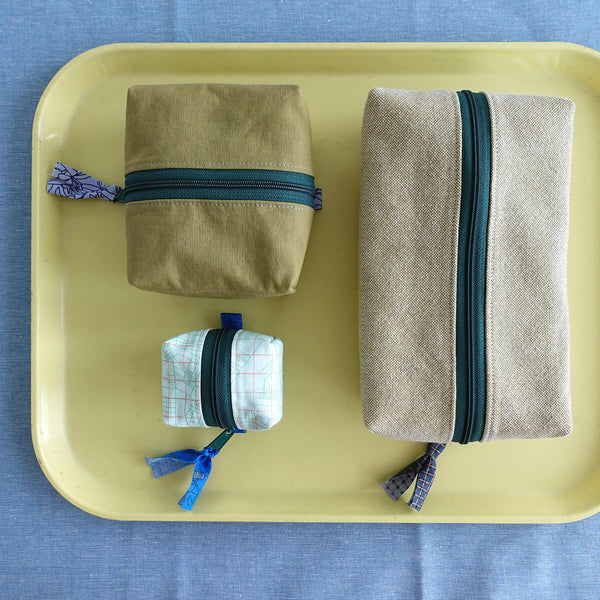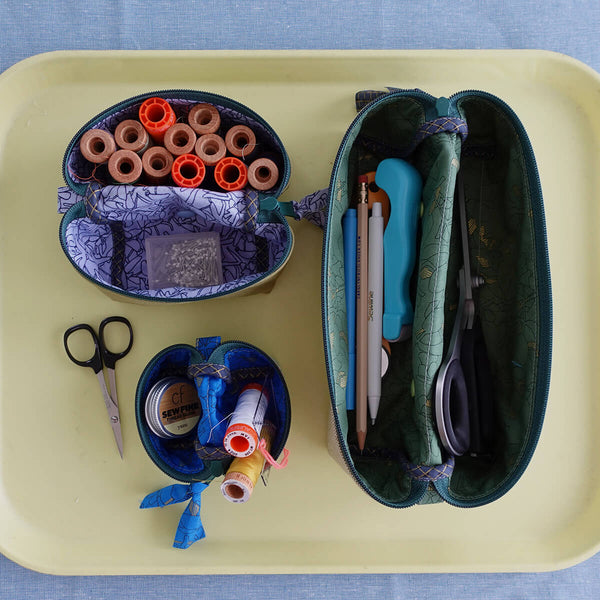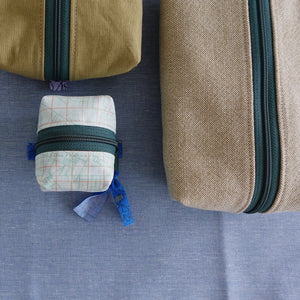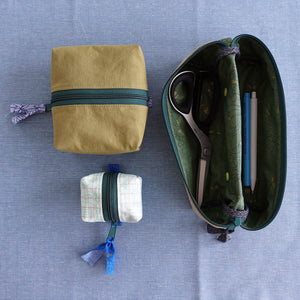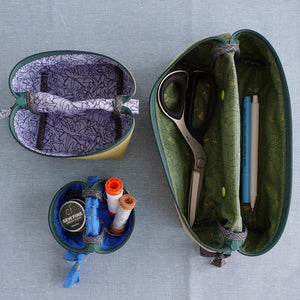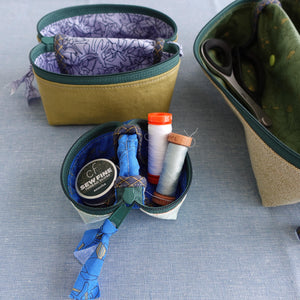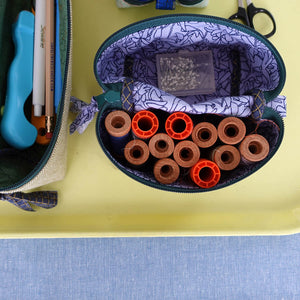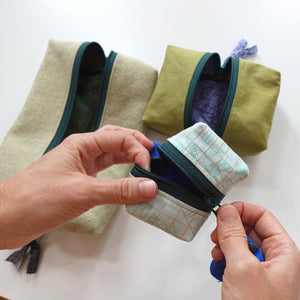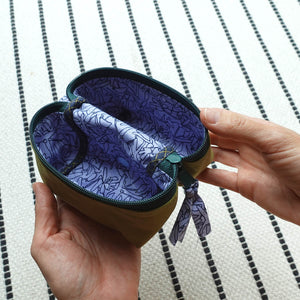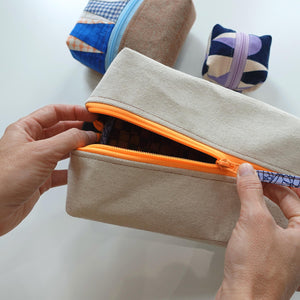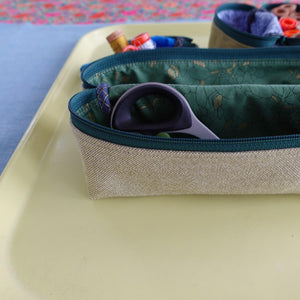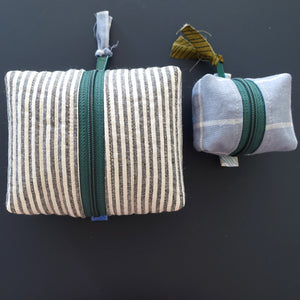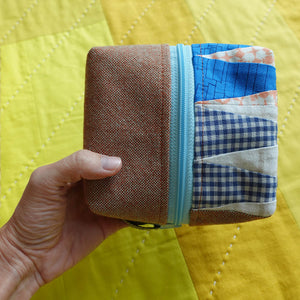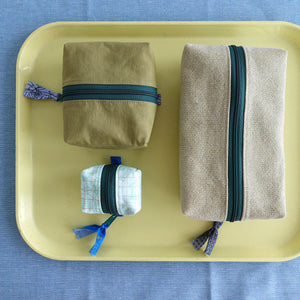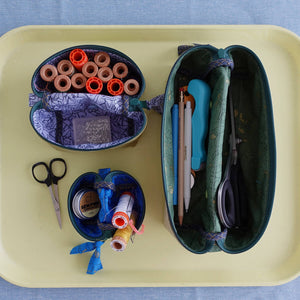 Split Pouch Pattern and Workshop
The Split Pouch Pattern is super handy for toting on trips or for keeping your supplies handy. The pouch opens and snaps into two compartments that are perfect for on-the-go adventures whether that's sewing, school or travel!
This pattern comes with the option to add my Online Workshop to your order. See how it all comes together in this 2+ hour virtual workshop.
Project Sizes
Three project sizes are included; Small (3" x 3" x 3"), Medium (5 1/2" x 5 1/2" x 3"), and Large (9" x 5 1/2" x 3").
Fabric + Supplies
Fabric - Quilting-weight cotton is great for Exterior or Lining. Canvas or heavier for Exterior works well too. Customize interfacing selection as you wish.
Interfacing - Pellon SF101 woven fusible interfacing (or similar) OR ByAnnie's Soft and Stable (or similar) are stabilizers I like using for this project.
Zipper - All-purpose, synthetic zippers work best for this project. Longer zippers are used and trimmed to fit while constructing the pouch. Zipper by the yard also works great.
I love using plastic snaps for this project such as these*.
Bias Tape Maker (3/4") if making your own.
*Affliate Link
Techniques/Skill Level
Intermediate - you are comfortable installing zippers and snaps as well as working with 3-dimensional projects.

Pattern Includes
Three project sizes, illustrated how-to instructions, full-sized templates to work from, how-to make bias tape
About the Workshop
Learn how to make the Split Pouch by watching it all come together in this pre-recorded 2 hours 9 minute workshop. Watch it on your own time as many times as you want, and revisit sections easily by selecting specific Chapters.
Chapters:
1. Hello!
2. Project Sizes
3. Supplies
4. Prepare the Templates
5. My Supplies For This Project
6. Prepare with Soft and Stable 
7. Cut Out Your Project - Woven Interfacing
8. Cut Out Your Project - Soft and Stable
9. Prepare the Zipper Tabs
10. Prepare the Zipper
11. Install the Zipper
12. Install the Snaps
13. Topstitch and Install Zipper Tabs
14. Assemble the Pouch
15. Make Bias Tape
16. Attach Bias Tape
17. Make Zipper Pull
18. Finished Pouches and Final Thoughts
19. BONUS #1: Bias Tape Stash
20. BONUS #2: Sew Together with Soft and Stable 
Featured Projects + Additional Resources
How to install a snap (on YouTube)
How to make bias tape (on YouTube)
Split Pouch projects on the blog